The Welcome Back PowWow was held today at LDF School. The rain directed the PowWow back to the school and not at the Indian Bowl as originally planned. These dancers stopped to pose for a picture! (K) Melodie Wildcat - (2) Mili Handrick, along with (K) Mason/Dabaso Elm, and Matthew Chosa. Reminding us ALL of the great things in our lives! Happy Fall!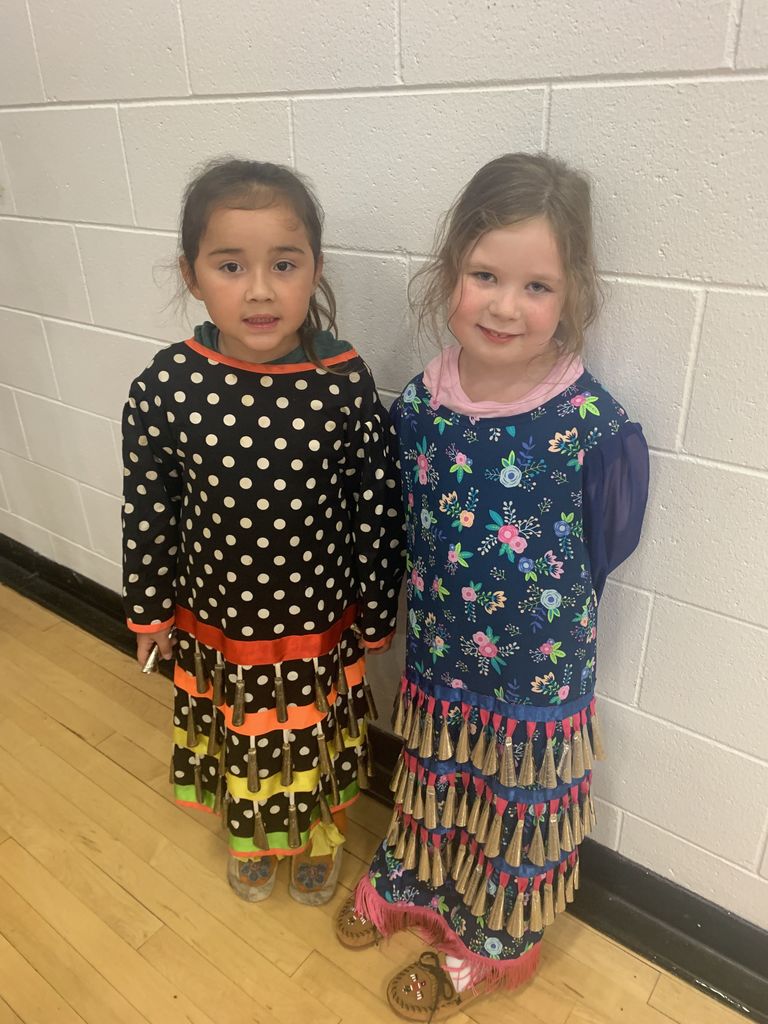 This is just a reminder that there is NO SCHOOL for students on Friday, September 22nd, due to a Professional Development Day for teachers.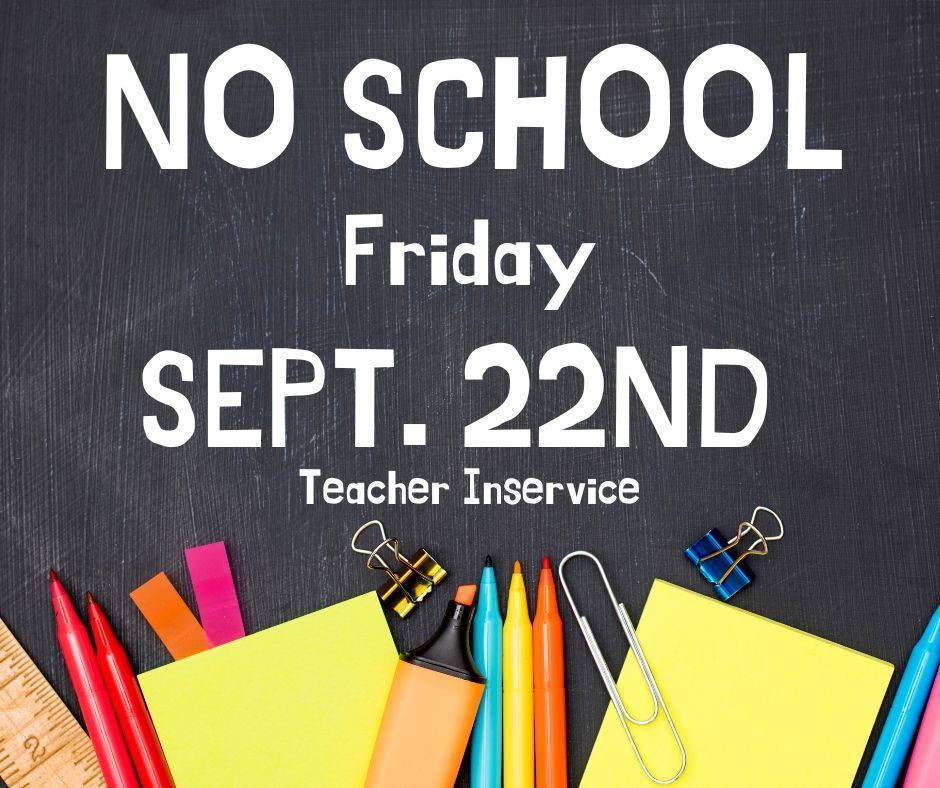 Just a reminder there is NO 4K on Fridays during the school year.

World Suicide Prevention Day is Sunday, Sept. 10th. Meet at the LDF Veterans Post lot at 2:00 p.m. to Chalk-It, Walk-It, and Talk-It.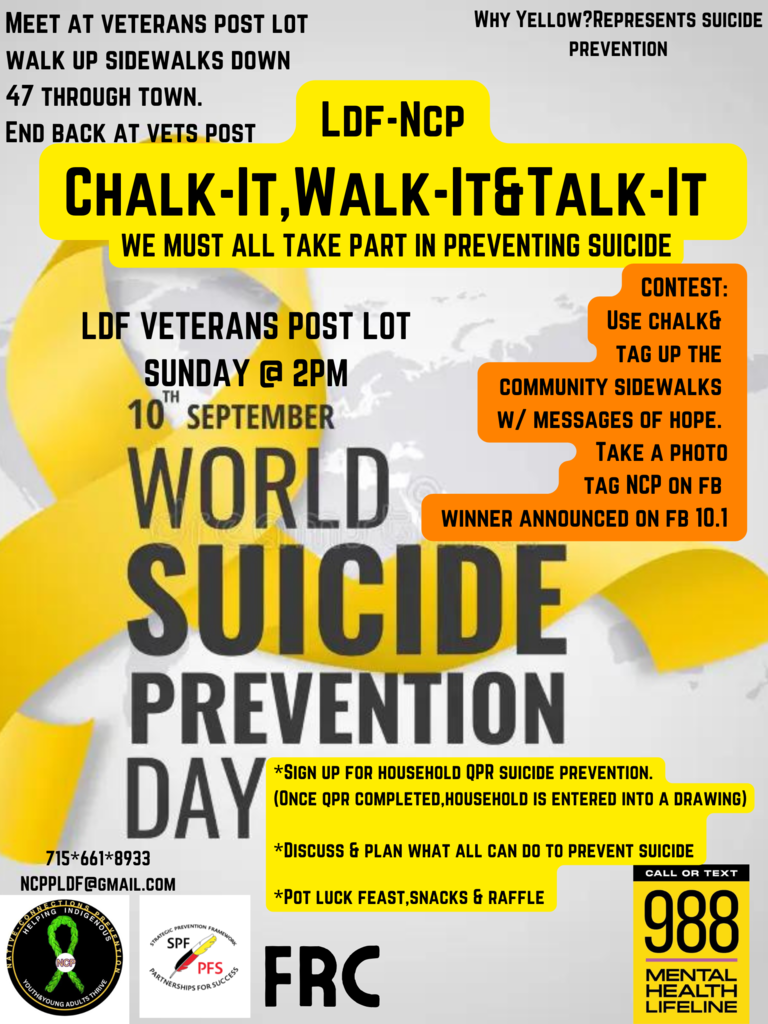 Lac du Flambeau Public School would like to thank the businesses that donated to our New Staff! Holding the banner on the left (Lindsey Schuman/New Welcome Center Greeter) and right ( Brooke DeVries/New Attendance Coordinator). The poster was painted by LDF Art Teacher (Katie Black) Thank you again! And welcome to ALL of the New Staff!

Meet the New Staff at Lac du Flambeau Public School! Pictured left to right (Not pictured Lindsey Schuman/Welcome Center Greeter Debra Wilson/Resource Support Zoey Ziebart/Kindergarten Teacher Bryan Way/Resource Teacher 2/3 Back row-Principal Ben Fieck...not new...:) Hayley Olson/7th Grade ELA Teacher Deb McCulloch/6th Grade ELA Teacher Back row-Brooke DeVries/Attendance Coordinator Donna Beltrone/5th Grade Math Teacher Walter Gaulke/Physical Education Teacher Front row-Amber Louis/Resource Support Jennifer Flamang/Resource Support Alicia Soto/Kindergarten Teacher WELCOME! WE ARE GLAD YOU ARE HERE!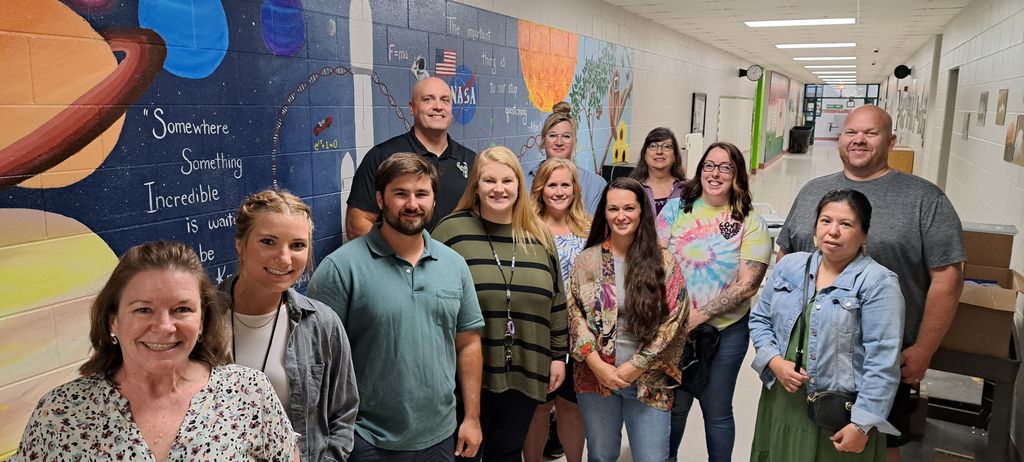 Lac du Flambeau Tribe's Economic Support Department Donates Backpacks to LDF Public School Students. Pictured below are from left to right: Principal, Ben Fieck, LDF Student Registrar, Tiffany Bauman, Raelle Allen, Income Maintenance, Anthony Negani, WIOA Coordinator, Taryn WIlliams, Income Maintenance, Cherish Rivera, Kinship Coordinator, and Ann Hartzheim LDF 1st Grade Teacher. The LDF Elementary School reached out to them and without hesitation, they responded to the need. LDF School is so grateful for this donation of nearly 500 backpacks! Students at LDF School are off to a great start!

LDF Business Development Corporation Supports Student Success with Donation of Fully Stocked Backpacks! Pictured below making the drop off are in order from left to right, Dion Reynolds-COO LDF BDC, (2nd photo) Zachary Allen -Public Relations/Marketing Coordinator.Manuel Vazquez-CEO LDF BDC, Jessica Holton - Admin Assistant LDF BDC, Cindy Kyska LDF School Admin Assistant, and Brittany Allen-Director of Lending-LDF Holdings. In a bid to empower students for the upcoming year, the BDC came together to provide over 45 fully stocked backpacks. A message to the students receiving these backpacks: Your journey is just beginning, and BDC is honored to be a small part of it. Remember, with dedication and the right tools, the sky's the limit! A huge thank you from all of us at Lac du Flambeau Public School!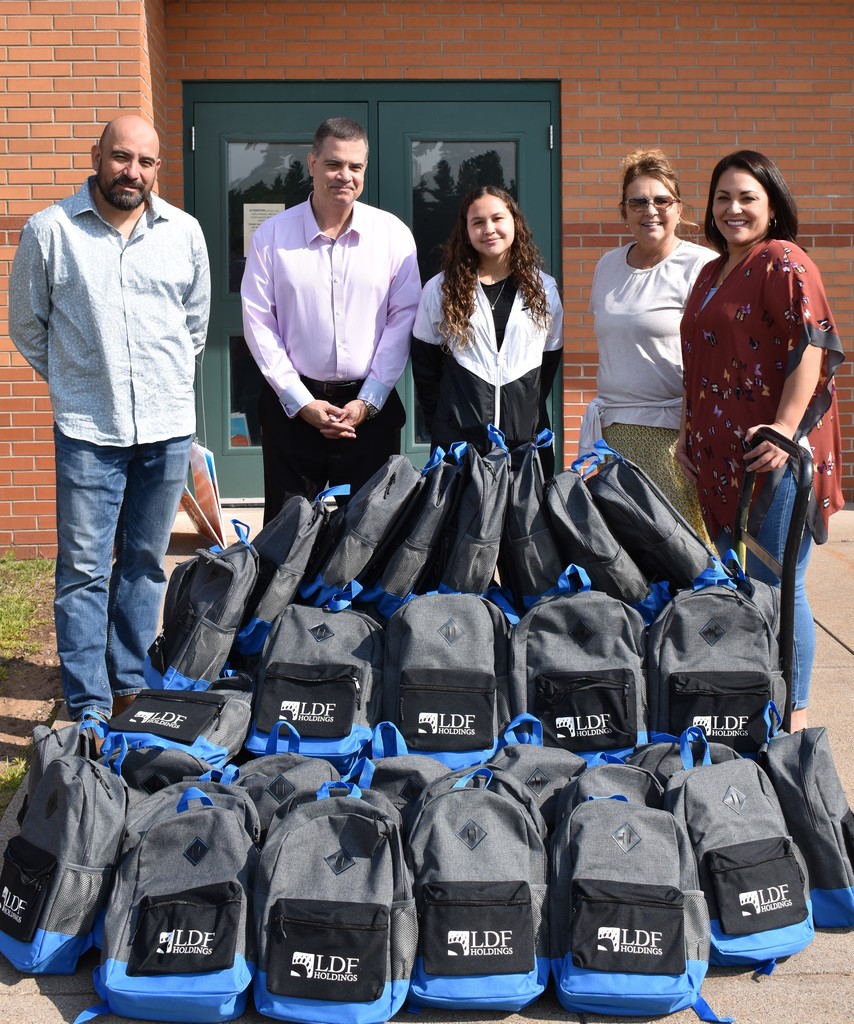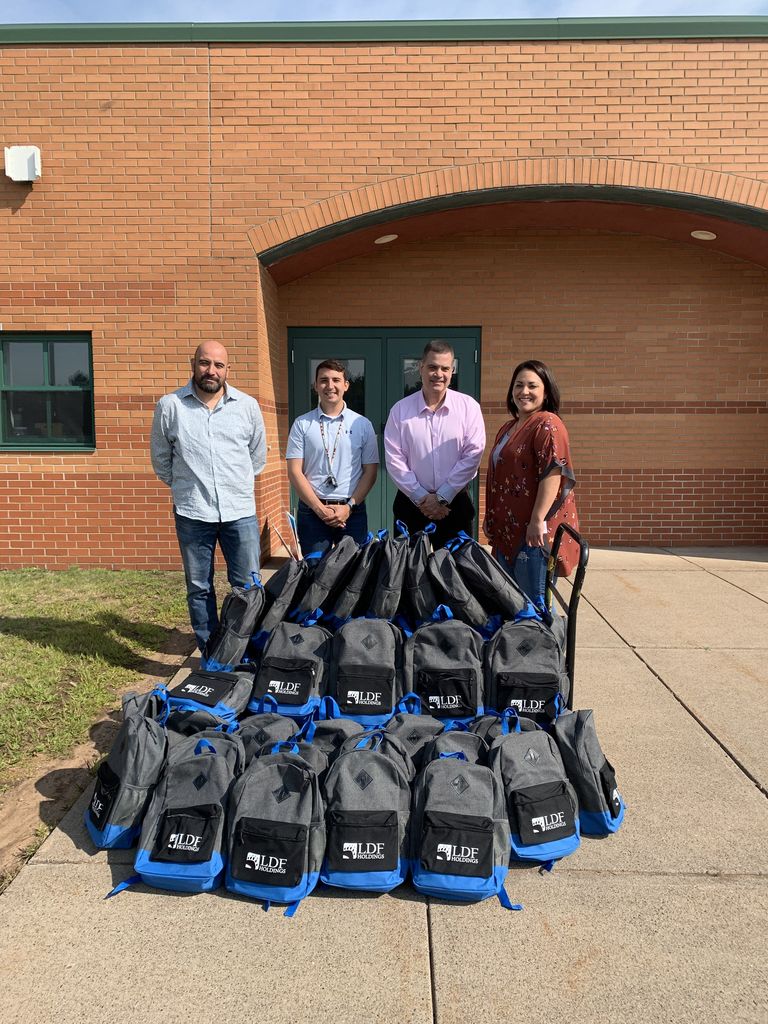 Attention families that have students that play Football & Volleyball at LDF School. Practices start on Monday, Aug. 28th, 3:30-5:00. NO transportation will be provided until school starts on Tues. Sept. 5th. Next week, 8/28-8/31-ONLY practice on Mon, Tues, and Wed., due to OPEN HOUSE on Thursday 8/31 from 2:00-6:00. All players should have physicals. FB is for grades 5th-8th. VB is for grades 6th-8th. For more info, please contact LDF Athletic Director, Mark Armstrong at 715.588.3838 ext. 414.

Community Grief Support Groups offered by LDF Family resource center. See the photo for more information.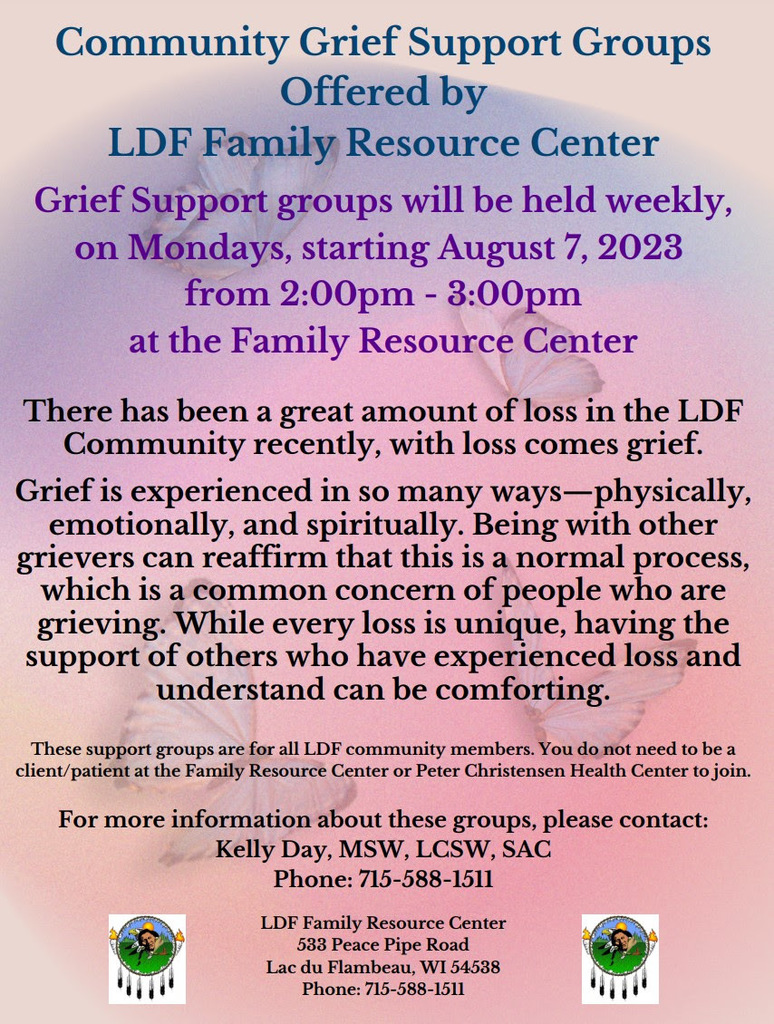 Don't miss the WELCOME HOME FEAST for the N.A.I.G. ATHLETES!!! Tomorrow, Thursday July 27th from 3:00-6:00 p.m. at the LDF Youth Center. LDF Tribal Members & Descendants competed in various sports as part of Team Wisconsin at the North American Indigenous Games recently held July 15-23 in Halifax, Nova Scotia, Canada. Please come meet, congratulate, & support these athletes from LDF who were on Team Wisconsin. The North American Indigenous games are a gathering of between 756 Indigenous tribes throughout US and Canada who come together to compete against each other in 16 different sports with 3 traditional indigenous sports. The following students were selected for Team Wisconsin to compete in each of the following sports: Track & Field-Summer Smith, Michah Wright, Robert & Wayne Thompson, & Ethan Gonzalez. Baseball-Presley Allen, & Tristan Rainey. Softball-Lauren Allen. Basketball-Jalend Cobb. Volleyball- Jayda Livingston. Wrestling- Leonard Chosa, Landon Saglin, Justin Funmaker, Esaube Brown, & Jerome Labarge. A few quotes below from the athletes themselves & parents: "Ethan Gonzalez (Track & Field) from Mom... participated in 5 track events, 4 of which he placed in. Ethan received 2nd in the 200 meter, 2nd in 300 meter, 2nd in the 4x100 meter relay and 3rd in the 4x400 meter relay. He is honored to have this experience and be able to represent the Lac Du Flambeau Tribe in a good way." "Jerome LaBarge, (Wrestling) from Mom...the boys ALL did an amazing job, and brought home by the entire wrestling team the award for Team Wisconsin! "Summer Smith, (Track & Field-) noted-that this was the greatest experience of her life. She loved everything about it. She was so grateful that she was given this opportunity. She will never forget it and thanks the tribe for making it possible. Team Wisconsin brought home overall 56 awards and were involved in 9 sports out of 15 sporting categories. Again, information gathered from community members and we apologize for any oversights. Thank you!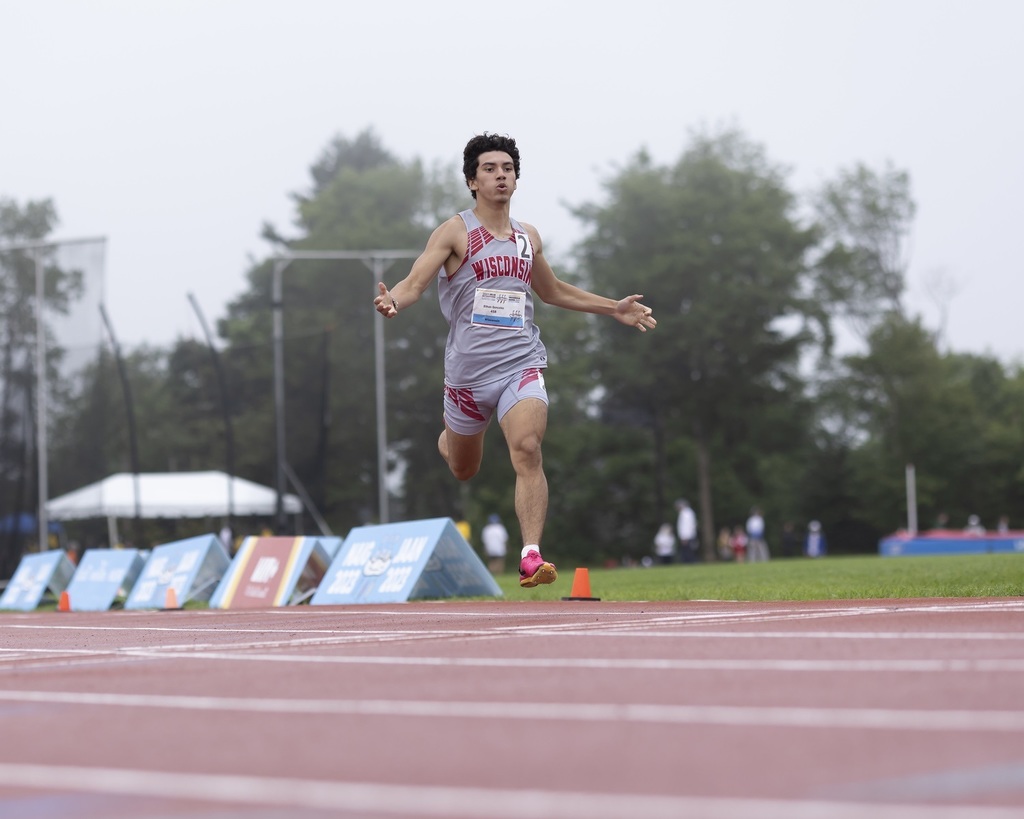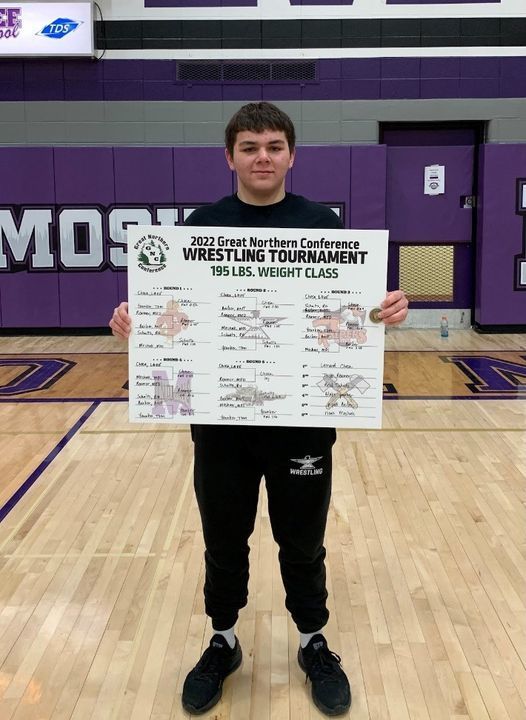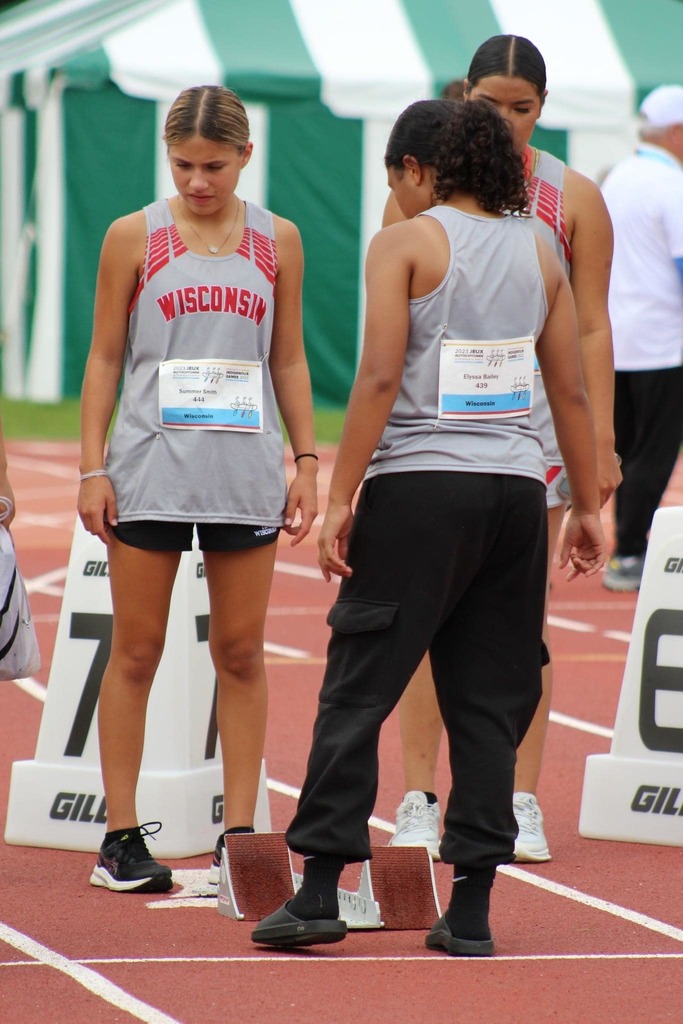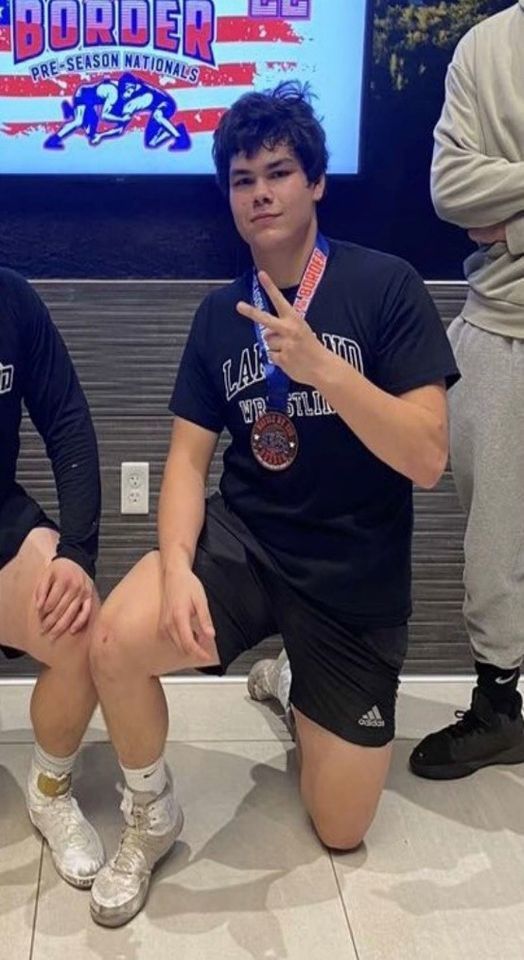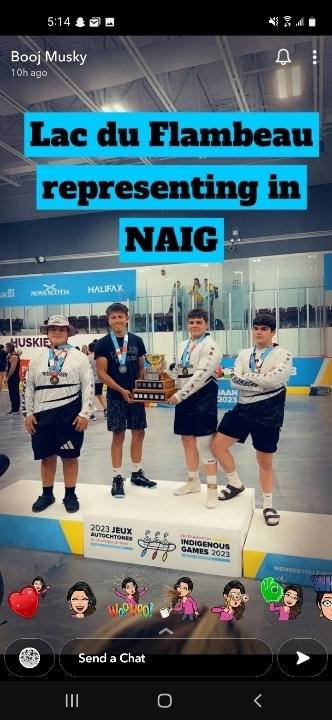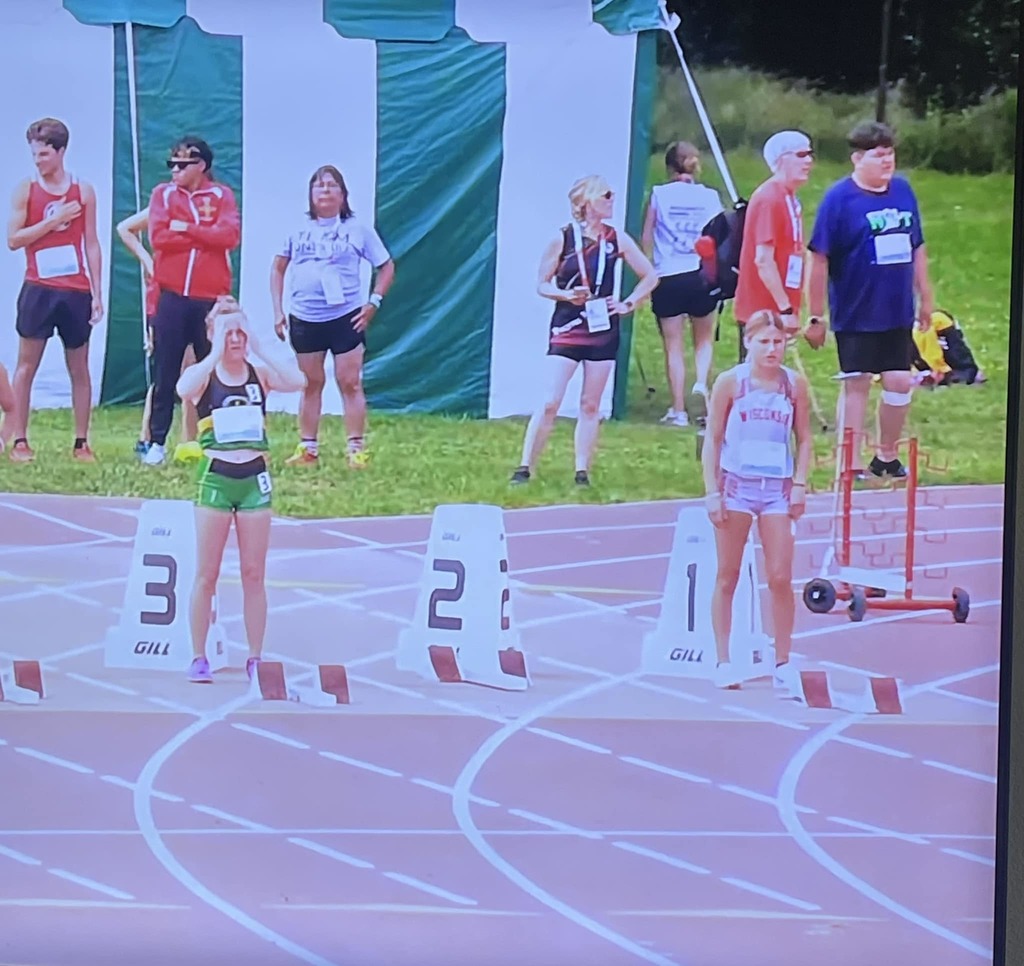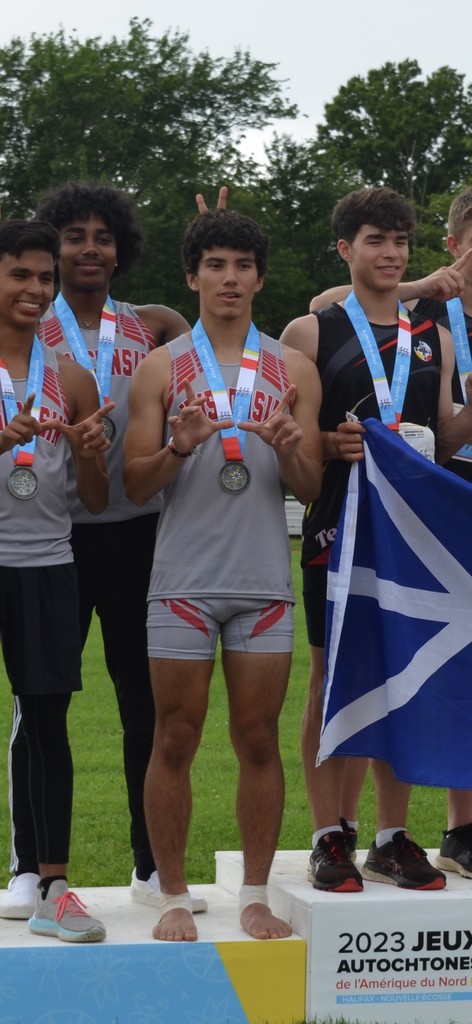 Hiring Food Service Workers for Lac du Flambeau School...many positions available. Apply online today at jobs.elior-na.com or by calling toll free 1.844.354.6762 . Or call the school at 715.588.3838 and ask for Paula ext. 220.



Job Postings: New Welcome Center Receptionist (FT) --Attendance Coordinator )FT) and Sub/Custodial Positions. Please see the attachments. If interested, please call the school at 715.588.3838 ext. 300-These postings are also on the LDF website as well as WECAN. Happy Summer!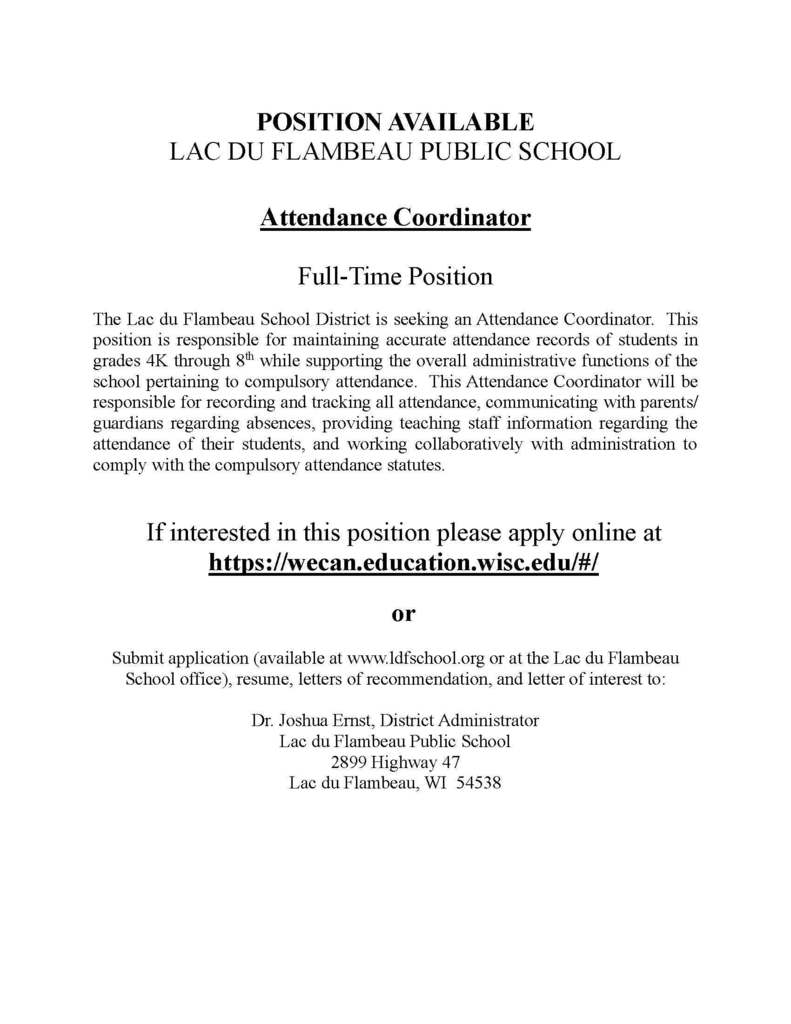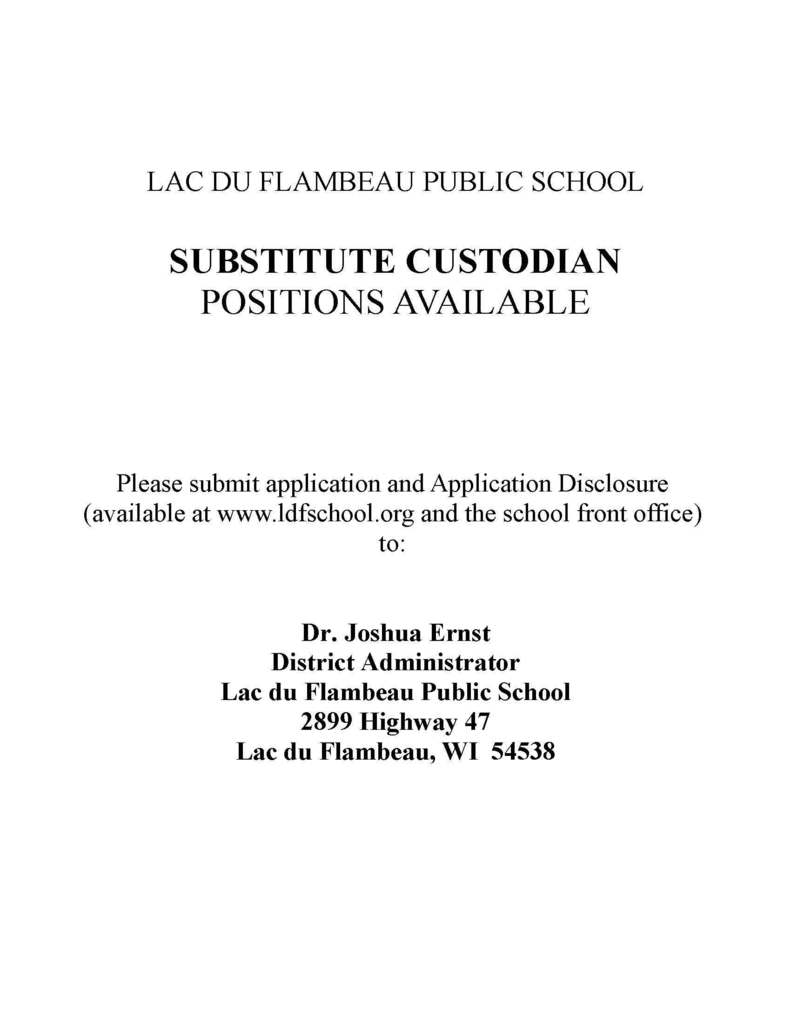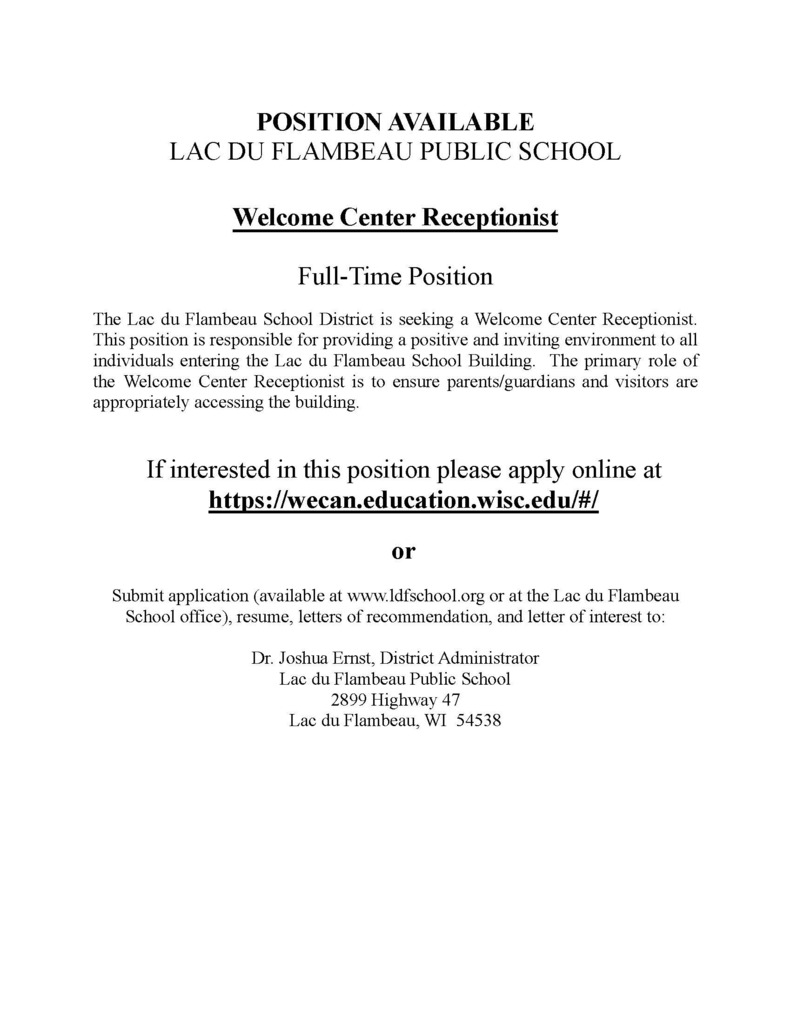 Words from the football coaches: We had an awesome two days this week @LDFSchool-hosting our annual T-Birds of Tomorrow Youth Football Camp! Excellent numbers and improvement in skill development made for a great camp!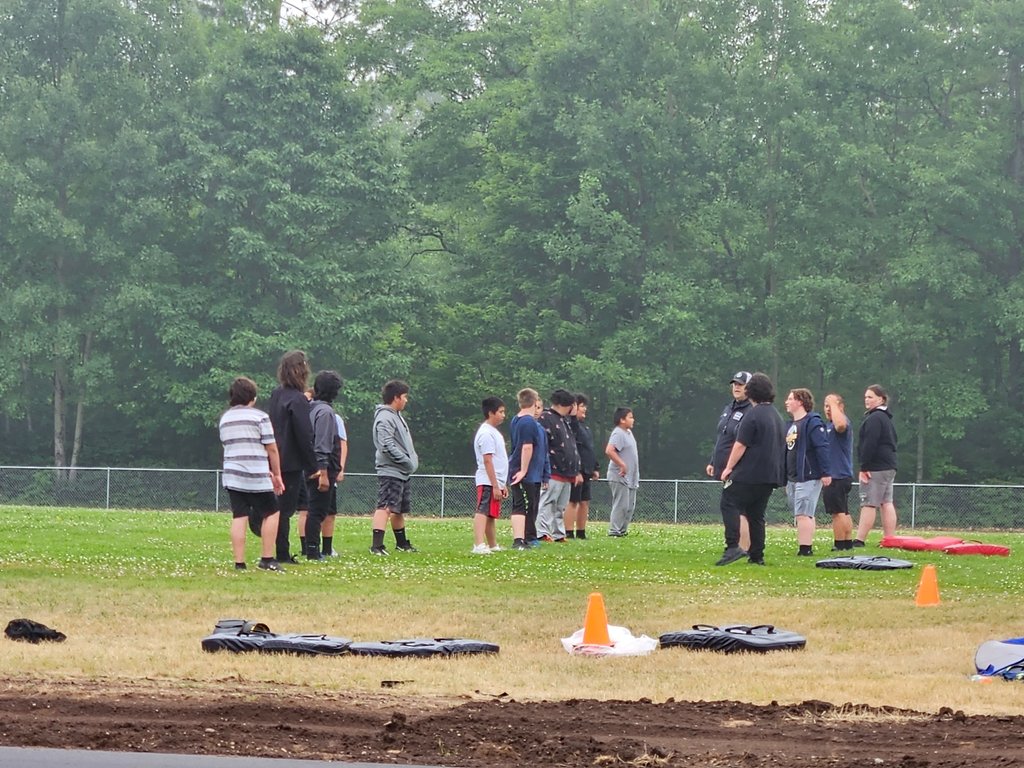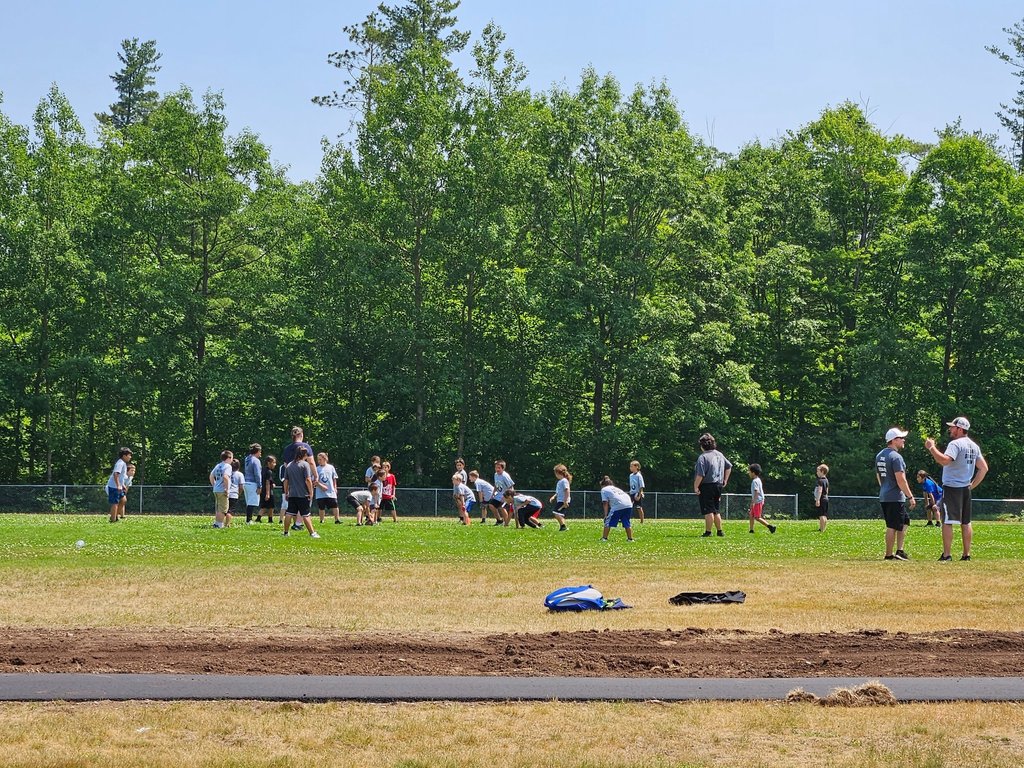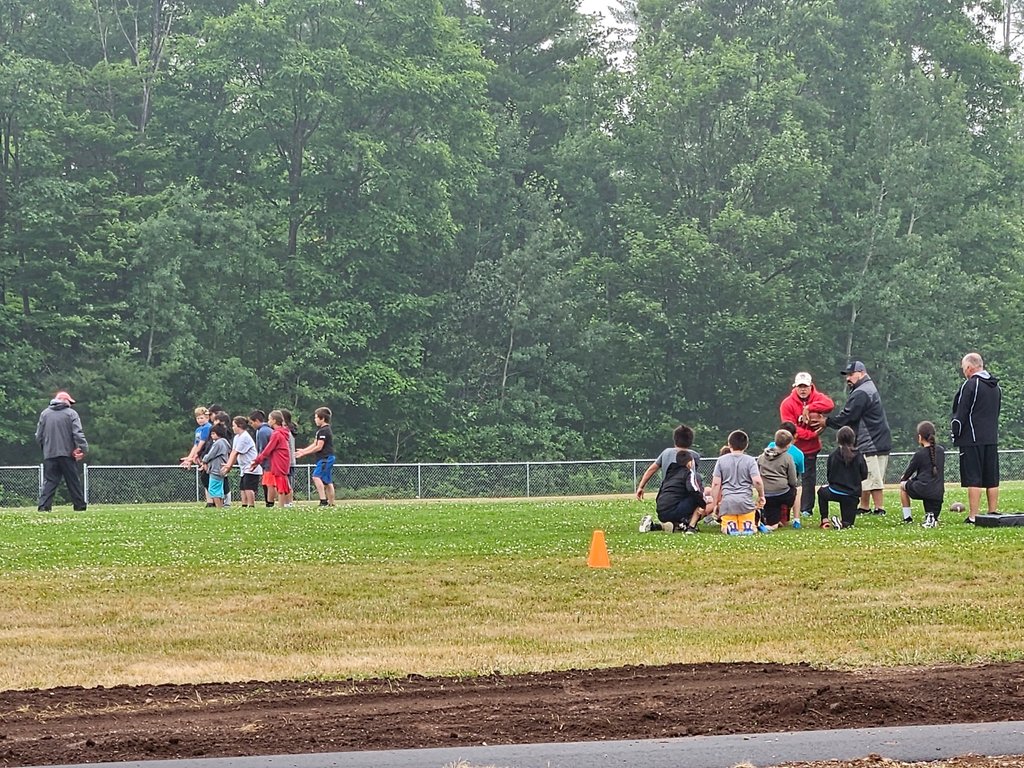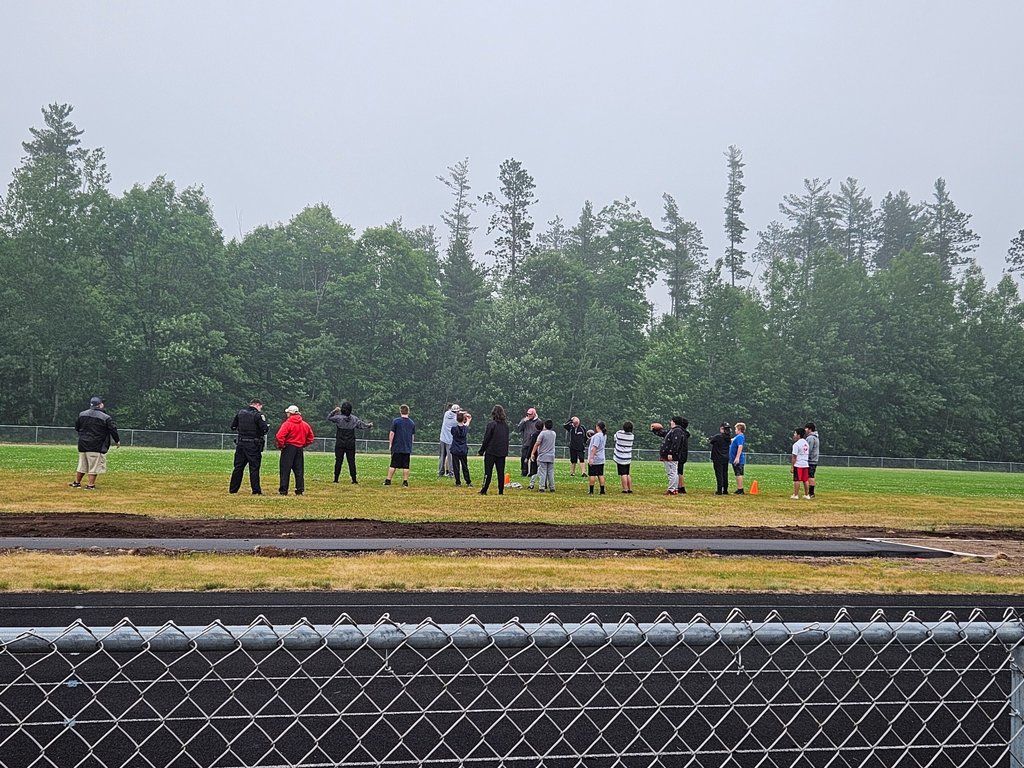 FREE FOOTBALL CAMP! Next week! For incoming students going into grades 2nd-8th. Monday, June 26th and Tuesday, June 27th. 10:00-12:30 at LDF School. LUHS & LDF football coaches look forward to seeing you! Registration forms at the school.

See the image for Summer Food Information.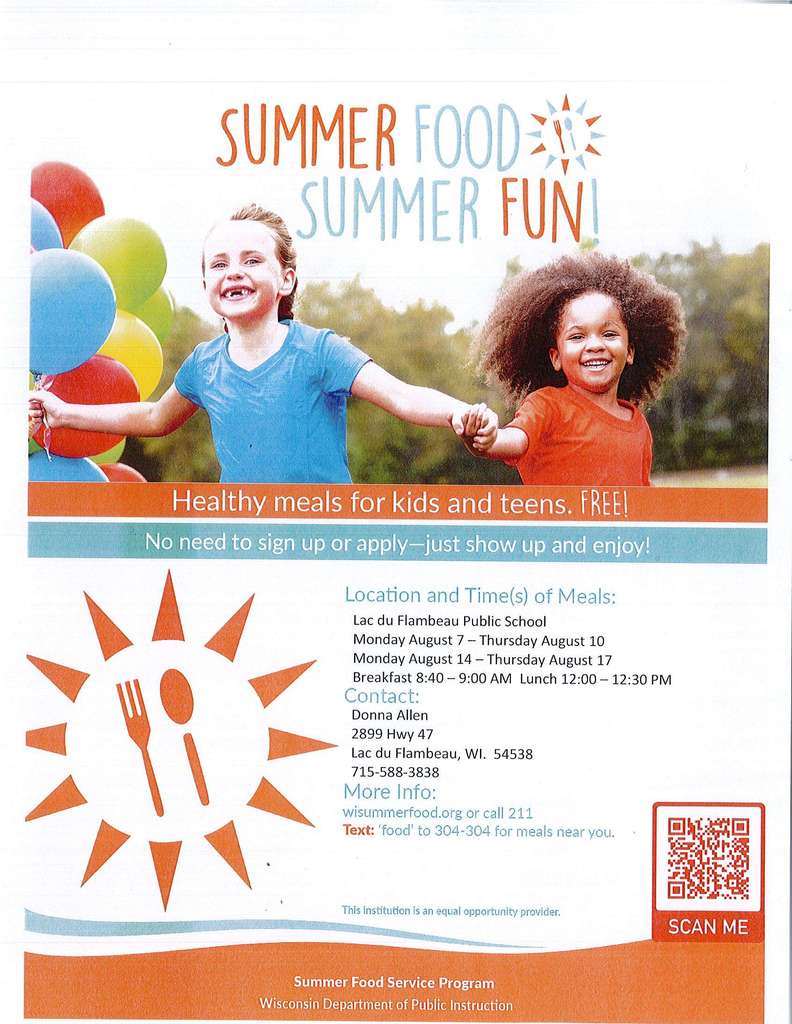 EARLY RELEASE THURSDAY, JUNE 1ST (LAST DAY) AT 12:15-BUSES PULL BY 12:25 FRIDAY, JUNE 2ND, NO SCHOOL (STAFF IN-SERVICE) HAPPY SUMMER!