Boozhoo Families of Lac du Flambeau School District, The LdF Tribal Council recently amended previous resolution 325(40) requiring mask usage throughout the reservation to only being required in certain facilities such as health care. Those facilities will provide signage at their sites. Starting on Wednesday, June 16 face coverings will be optional for staff & students at our school. MASK MANDATE CHANGES - EFFECTIVE WEDNESDAY-JUNE 16,2021
https://ldftribe.com/uploads/files/Covid19/NOTICE-AMENDED-MASK-MANDATE-325-20-res-06-15-2021-d-003-.pdf

Please mark your calendars: Important picture information from Lakeshore Photography for LDF families. Starting Fall 2021 Lakeshore Photography is converting to a paperless program. Through the new paperless program, parents are notified by email and SMS//text messages of upcoming picture date reminders. And most importantly, when pictures are available to view and order online. This means no more, picture flyers, order forms, etc... Lakeshore will provide a link in late August, early September that you can provide your email address to them. (You can unsubscribe from this service at any time). Lac du Flambeau School is asking that parents review the Lakeshore Photography Privacy Policy letter attached and if approved, reply to the link coming in late summer. Picture day will be Thursday, September 16, 2021.
https://drive.google.com/file/d/16yGEbIMMh7M7CkbrQjAoL4sla1oKyNIw/view?usp=sharing

The 8th-grade promotion is tonight at 6:00 p.m. at the LDF School Football Field. Here is the link to use if you are unable to attend. Congratulations 8th graders!!
https://youtu.be/GIcCYCj1R74

Here's some end of the school year info! NO school for 4K or Kindergarten tomorrow Friday, June 4th. Friday, June 4th is an early release day, 12:15-buses will pull by 12:25. Friday, June 4th is also 4K registration for next year. 9:00-12:00- This event will be held outside near the Head Start entrance/parking lot. Deadline is June 30th. Happy Summer!

EXCITING NEWS! Liam Armstrong 3rd grade student at LDF School is a karate star! His rocky-themed video has gone viral on TikTok with millions of social media views and was even featured on Sports Center. Ben Fieck, principal at Lac du Flambeau Public School congratulated Liam this morning, spoke with his family, and then Liam demonstrated a front kick in the principal's office! Congrats to Liam and his family. We are ALL WARRIOR proud!  
https://vm.tiktok.com/ZMewXRuhQ/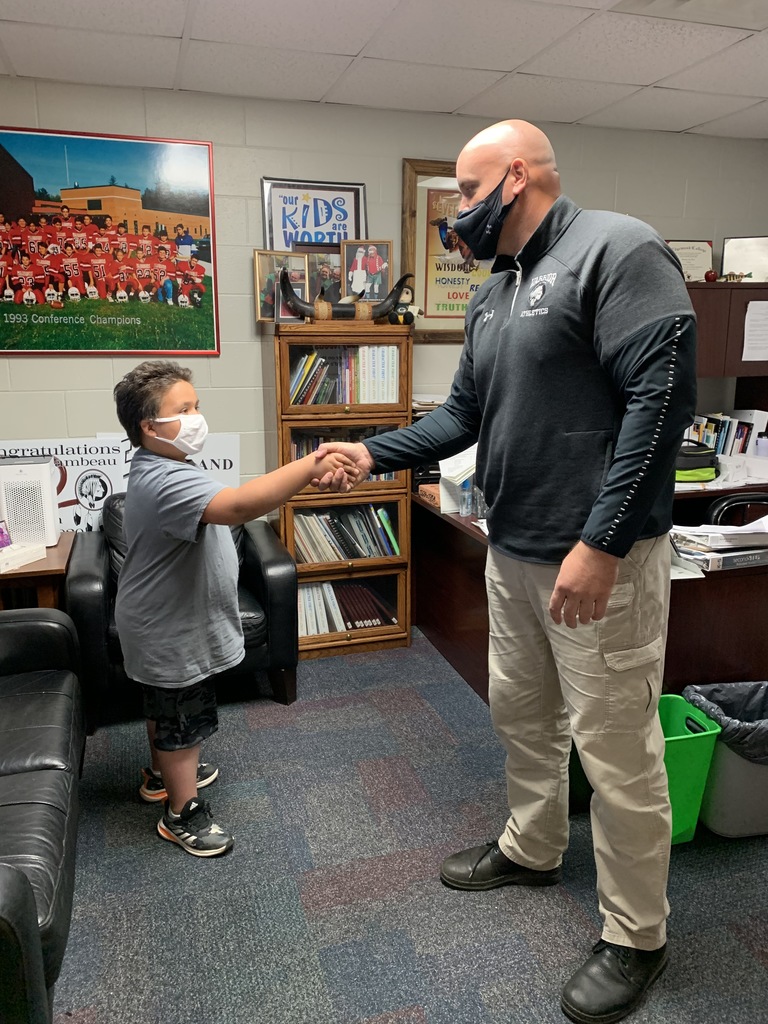 Announcing the Lakeland Hoops Basketball Camp! Please see the attached registration form from AVW School. This is for INCOMING 3rd-8th grade boys. Copies are available in the LDF School office.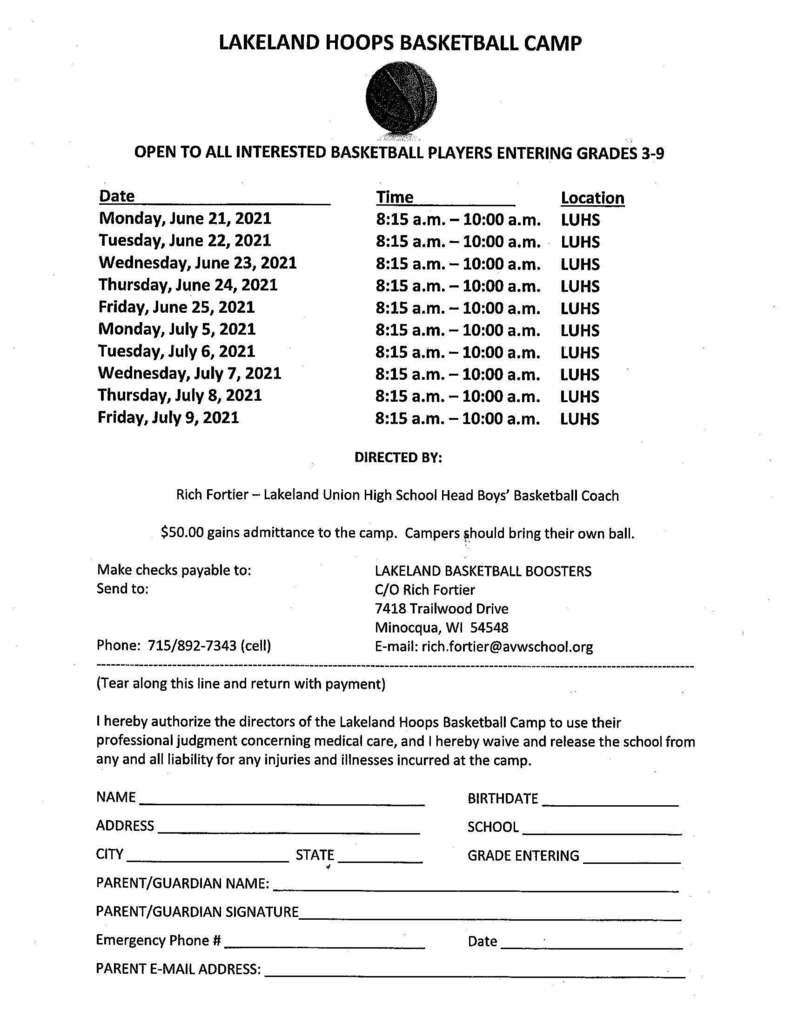 Announcing a Lawn Chair Spring Concert/Recital tonight! Location will be near the outside LDF concession stand from 6:00-6:30 p.m.. Theme: A Little Bit of Jazz! Directed by Ms. Lisa Hernandez. Performing will be a few students from LDF School, including, 4th-grade Ukelele entertainment, a Piano Solo, and 6th, 7th, & 8th-grade band performances. COVID guidelines will be practiced. Any questions, please call Ms. Hernandez in room 504. And don't forget to bring your lawn chairs!

Track Meet Cancelled for today.


2021 T-Birds of Tomorrow presents a Summer Youth Football Camp for incoming 2nd-8th graders. Camp #1 June 28th-29th is at Lac du Flambeau School and free to LDF students. Camp #2 is at the high school and the camp cost is $25.00. Please see flyer for all of the information. Registration forms should be filled out and dropped off in the school office.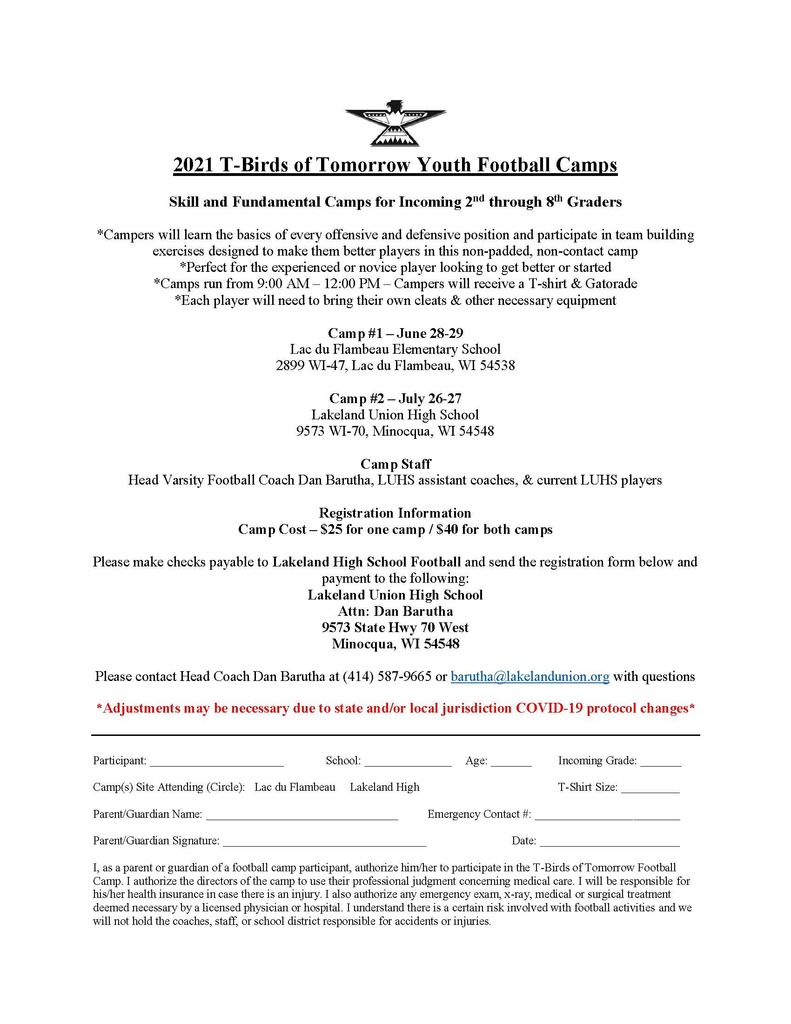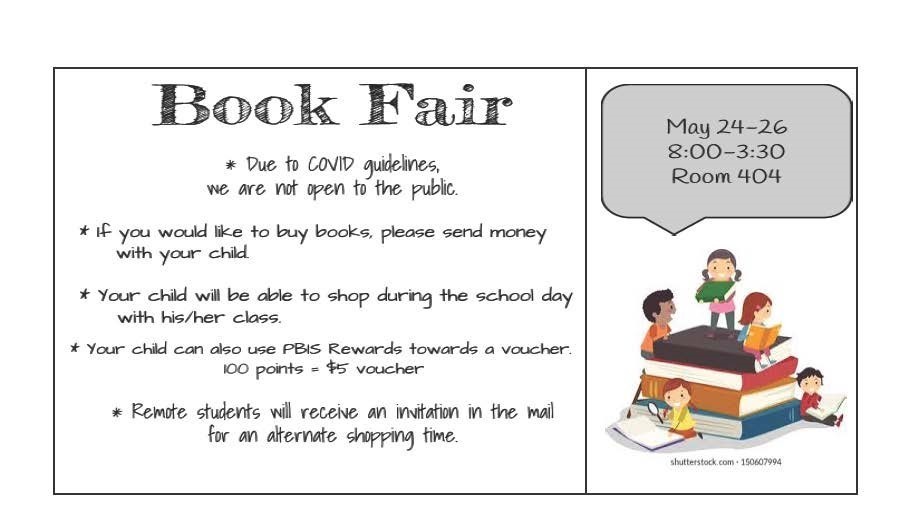 Announcing a 4K Registration event to be held on Friday, June 4th from 9:00-12:00. The location will be at LDF School/outside of the Head Start Entrance/parking lot. All children who turn four by September 1, 2021 are eligible to register. There will be a raffle for children's bicycles for completed registration forms by June 30th, 2021. For more information please call 715.588.3838 ext. 197.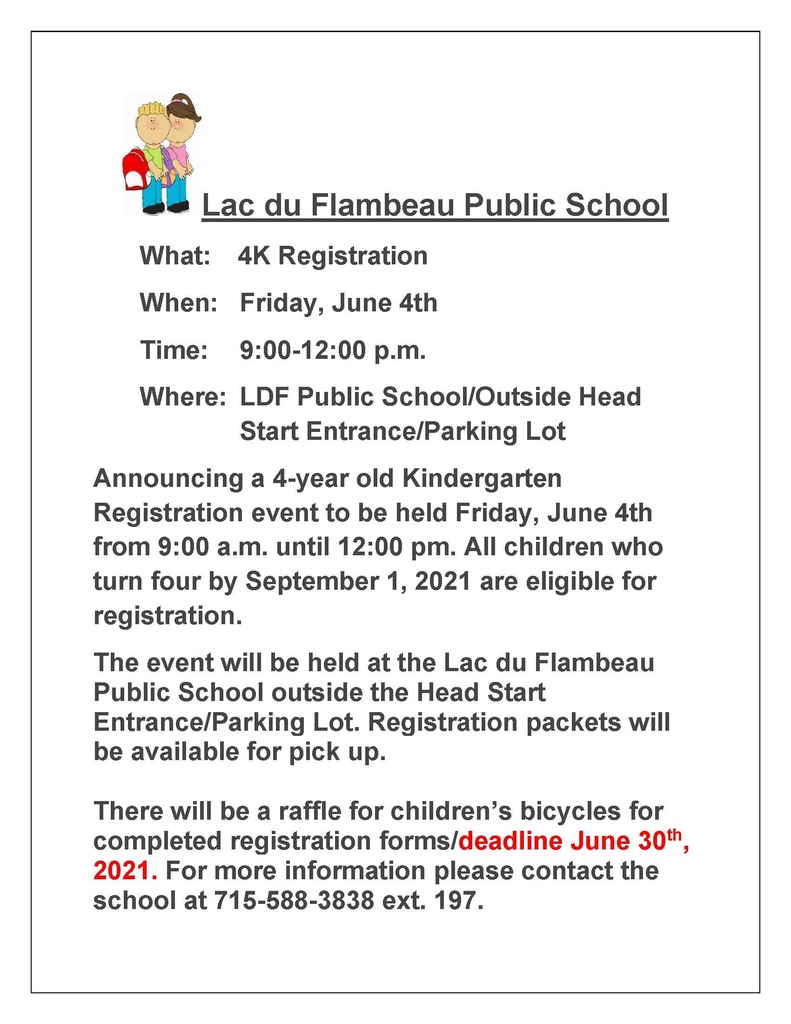 ****Please disregard this message if you have already registered your student(s) for summer school enrichment classes.**** *****Registration closes TODAY Friday, May 14.***** Dear Families of Lac du Flambeau Public School, We are pleased to share that the summer school enrichment registration window is open. Enrichment sessions are open to ALL Pre-K - 7 grade students. Please register your student(s) for summer school enrichment classes by filling out this form:
https://forms.gle/PNFbj5xgpWC6Nmuu7
. Paper registration forms are also available at the front office and can be mailed upon request. Students required to attend in-person summer school will receive a certified letter in the mail from the school during the week of May 21, 2021. Parents/guardians can always call the school at 715-588-3838 to talk with a school secretary or principal to verify. Miigwech! Full Letter:
https://docs.google.com/document/d/1htUmo3KMJrz_47CKJkxLWFFGxqjUGREHtE65A72_4aU/edit?usp=sharing

This is so exciting! We have one more Papa Murphy's Pizza night this school year! Wednesday, May 19th! (Minocqua location) Remember that 25% of sales from the entire day will go back to Lac du Flambeau Public School! So, it's the last one for this school year! Thank you!
****Please disregard this message if you have already registered your student(s) for summer school enrichment classes.**** *****Registration closes tomorrow, May 14.***** Dear Families of Lac du Flambeau Public School, We are pleased to share that the summer school enrichment registration window is open. Enrichment sessions are open to ALL Pre-K - 7 grade students. Please register your student(s) for summer school enrichment classes by filling out this form:
https://forms.gle/PNFbj5xgpWC6Nmuu7
. Paper registration forms are also available at the front office and can be mailed upon request. Students required to attend in-person summer school will receive a certified letter in the mail from the school during the week of May 21, 2021. Parents/guardians can always call the school at 715-588-3838 to talk with a school secretary or principal to verify. Miigwech! Full Letter:
https://docs.google.com/document/d/1htUmo3KMJrz_47CKJkxLWFFGxqjUGREHtE65A72_4aU/edit?usp=sharing